The Reaper — The Artist vs. The Craftsman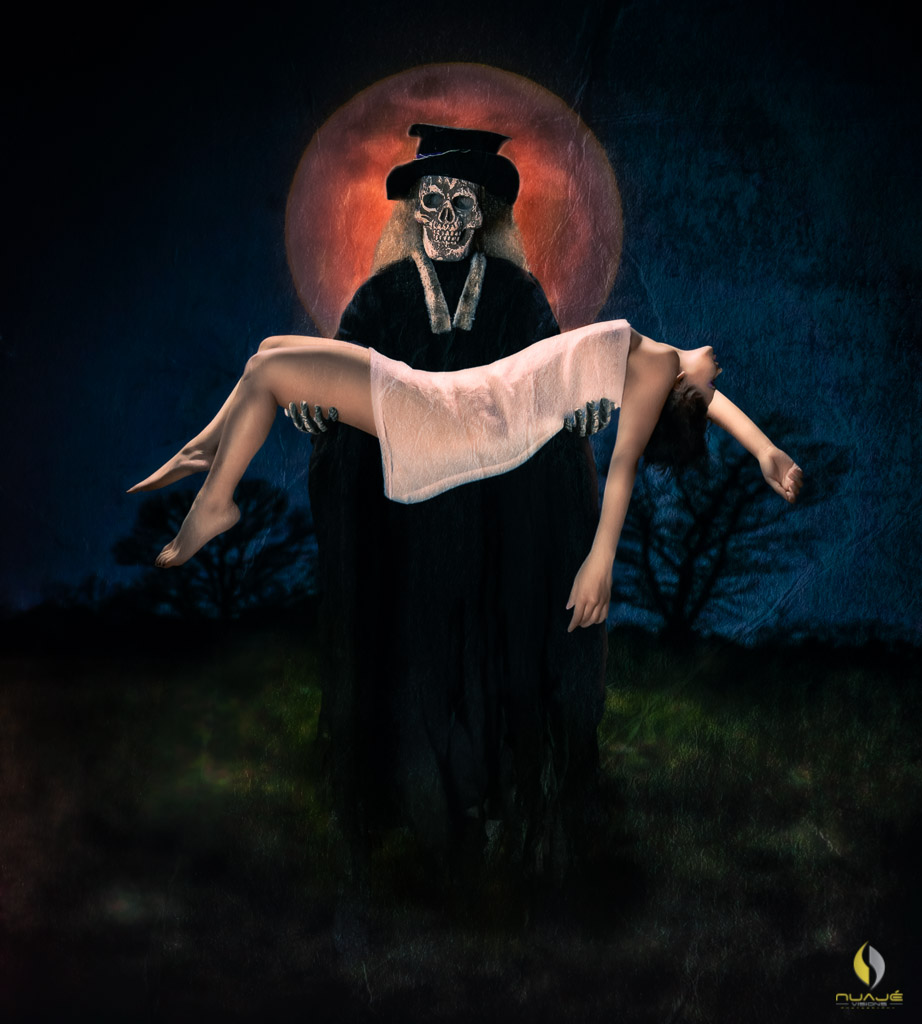 I'm either late for Halloween 2013 or early for Halloween 2014. Actually, I did finish this some time ago, but a reoccurring question kept coming up that prompted me to change the subject of this blog post. Just to review, a previous blog post gave a glimpse behind the scenes of the photo shoot. It shows our 150 lb model Jojo West uncomfortably draped over a couple of stools and our 3 ounce styrofoam Reaper villain that I bought from Michael's Arts and Crafts for about $13.00.
See previous post http://nuajevisions.com/blog/2013/10/a-halloween-pre-view.
Anyway, I was showing the finished piece to colleagues and the one question that kept coming up was, "How did you use Photoshop to get the reaper to hold the woman?"  I offer two (2) answers to this question:
If you are striving to be a Photoshop Guru, search the internet for a variety of tutorials on compositing. Experiment with the plethora of specialized plugins aimed at extracting objects from their background. There is no one size fits all, and you owe it to yourself to find the best technique to match the given situation. Practice, practice, practice.
If, however, you are striving to be a visual Artist, hire a Photoshop Guru to do this.
Since I'm geared more toward the Artist occupation,  I hired a Guru. Far too often, I see photographers spend countless hours in front of computers instead of capturing new images. For the record, I am proficient in Photoshop, but I'm trying to be an even better photographer.
My goal is always to assemble a team of skilled professionals who are great at their respective disciplines.  To that end, I'm always looking for makeup artists, fashion stylists, set designers, models, etc to create with. I believe a great team is the secret to creating great works of art like photography, music, movies, and (of course) the perfect cup of coffee. I have a lot of commercial clients and I learned a long time ago that companies who are serious about partnering with creative professionals want more than just a single guy attempting to wear the hats of many.
Here's an overview of this project:
THE GIRL
Rain Told Me This Would be Fun
This is NOT Fun!
Rain Invited me to Hang Out and Watch Some Horror Movies
I hired someone to do the Photoshop cutout work and put the girl in the ghoul's hands.
Here's the spooky landscape that I photographed back in August (I knew it was going to come in handy). Fortunately, I captured this with my D800 so, despite what you see here, there is still plenty of details in the shadows that I'm able to bring into the light.
Here is how I put it all together. It still took me over 2 hours to complete the final piece.
---
You might also like